Data Analytics B.S.
Apply Today
The B.S. in Data Analytics degree program focuses on the collection, analysis, application, and management of data to make better decisions. The program focuses on creating and managing information systems in ways that promote effective decision making, increased employee productivity, and optimal service of an organization's information needs. Students gain the actionable insight that will provide real competitive advantage in a data-driven world. With the 4+1 integrated degree program, students can go on to earn their M.S. in Data Analytics with only one additional year of study.
Graduates go on to work in aerospace, banking, computer systems design, financial, government, and insurance. Jobs include computer programmer, investment banker, network administrator, software designer, and systems analyst.
Contact Information
Peter Wu
Interim Department Head
wu@rmu.edu
412-397-6458 phone
Wheatley Center 320
4-Year Course Plan

Freshman Year, Fall

INFS1020 Fund of Information Technology
CSEN1010 Reading and Writing Strategies
ECON1010 Survey of Economics
PSYC1010 General Psychology
FYSP1000
Math (if did not test out of 1010,1020, or 1050) or HUMA1010 Humanities: Art and Music

Freshman Year, Spring

INFS2150 Intro to Web Development
INFS3510 Intro to Data Analytics
CSEN1020 Argument and Research
STAT2110 Statistics
ACCT2030 Intro to Financial Accounting

Sophomore Year, Fall

INFS3210 or INFS3212
MATH2040 Finite Math and Applied Calculus
HIST Elective
CSCM1030 Public Speaking and Persuasion
ACCT2060 Managerial Accounting

Sophomore Year, Spring

INFS3230 Networks/Data/Computer Comm
INFS3220 Systems Analysis
ELIT Elective
CSCM2040 Professional Com in Workplace
MGMT2000 Principles of Management

Junior Year, Fall

INFS3235 Computer & Network Security
INFS3450 Quant Analysis for I/S
INFS4220 Data Mining Applications
MARK2000 Principles of Marketing
SOCI1010 Principles of Sociology

Junior Year, Spring

INFS4240 Database Mgmt System
INFS3221 Advanced Systems Analysis or another Data Analytics Elective
INFS3710 Knowledge Management or another Data Analytics Elective
FINA3000 Principles of Finance
SCI Elective

Senior Year, Fall

INFS4170 Glob, Econ, Soc., Eth Iss I/S
INFS4260 Data Integration for Analytics or another Data Analytics Elective
Open Elective 1
Open Elective 2
Open Elective 3

Senior Year, Spring

INFS4810 Project Management
INFS4630 Geographical Information Systems or another Data Analytics Elective
Open Elective 4
Open Elective 5
Open Elective 6
INFS4860 Program Outcome Assessment
Sample Courses:
These are some of the classes for students in this academic program:
Data Warehousing
Knowledge Management
Database Management System
Information Science, Business Law, Marketing
Communication Skills, Economics, Humanities, History, Sciences, etc.
Top Employers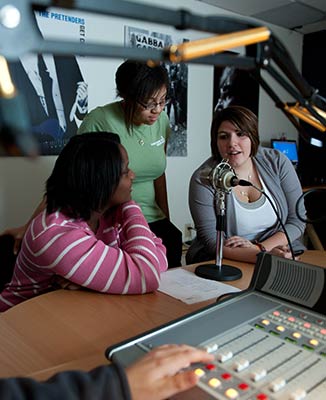 School of Informatics, Humanities and Social Sciences
Focus on delivering information in a way that makes an impact. Create images that capture attention, compose words that inspire, and design technology that changes how we live.
Visit School Site