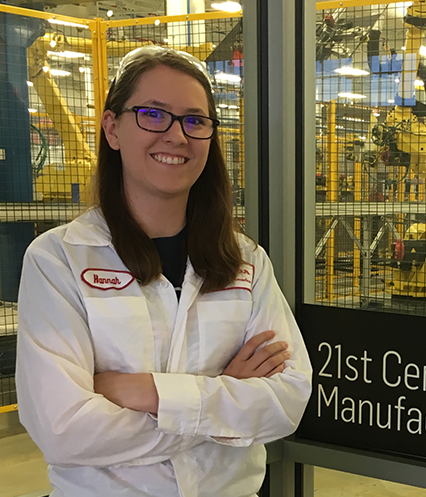 The Student Engagement Transcript gives you the opportunity to get involved on campus, to make those connections and be able to network with different groups.
When she graduated from RMU in 2017, besides earning her bachelor's and master's diplomas in engineering, Hannah Arnold had an impressive Student Engagement Transcript to show employers. Hannah also left something for the university to remember her by — the LEGO club she founded.
The club brought together students in diverse majors, from arts to engineering, to collaborate on semester-long projects. One, a three-foot- long LEGO reproduction of the RMU logo, hangs in the admissions office now. The club's model of Nicholson Center is also on display in the office of the dean of students.
Now part of Honda's engineering development program, Hannah rotates between departments at the global manufacturer in preparation for a more permanent post working with assembly processes on factory floors. She credits her experience with the LEGO club for teaching her how to step back from a goal, see what it will take to get there, and put a plan into action.
Hannah's Student Engagement Transcript records her work founding the club, as well as the other important projects she did at RMU that an academic transcript wouldn't capture — like her volunteering at a soup kitchen, rehabilitating a community hall for a local neighborhood, serving as a community advisor in her residence hall, participating in two faculty-led short study trips to Ireland, and formally presenting three long-term undergraduate research projects for expert review.
It takes a lot of work to get a Student Engagement Transcript as impressive as Hannah's. Considering what it can mean for your future career, it's also worth every minute.