Newsroom
Robert Morris University
RMU to Make College More Affordable Through Income Share Agreements
The Colonial Success Fund invests in students' professional outcomes.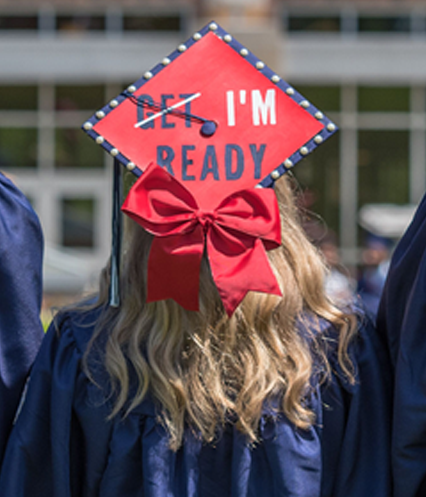 Robert Morris University now offers an innovative college financing tool called an income share agreement (ISA) to help students reduce the amount of traditional student loan debt they need to pay for their education.
The new Colonial Success Fund provides $5,000 annually to select students. In return, those students will pay a fixed percentage of their income upon graduation for a fixed number of months. ISA recipients whose income falls below a minimum threshold will not be required to make any payments until their earnings increase.
RMU is the first college or university in the Pittsburgh region to provide students with an ISA, which the university has kickstarted with $710,000 from an anonymous donor. The university has designed the Colonial Success Fund in partnership with Vemo Education, the leading school-based educational income share agreement platform provider. The program has launched with the 2020-21 academic year, and 10 RMU students are now utilizing ISAs to help fund their education.
"Through the Colonial Success Fund, Robert Morris University is making a direct investment in our students' professional outcomes, and ensuring that an RMU education will remain affordable and accessible for our families," said RMU President Chris Howard.
Under the terms of the ISA, students will begin making payments to the university six months after they graduate, so long as their gross monthly income exceeds the annual equivalent of $25,000. They will make no payments during months when their income drops below that level. For graduates who earn higher salaries, the maximum payment amount is capped at 1.8 times the total value of the ISA.
Students will never make more than 84 payments. In addition, a payment window of 120 months ensures the obligation doesn't follow students forever. For students whose payment window closes before they reach the payment cap or the maximum number of monthly payments, and who comply with their contracts, the ISA obligation automatically expires.
"We are placing a bet on our students' professional success, and we know it will pay off for them," said Howard.
The Colonial Success Fund is one of several initiatives at Robert Morris to make a college degree more affordable and to make paying for college more transparent. These include the Public Price Match Plus scholarship program that makes the cost to attend RMU lower than at the main campuses of the University of Pittsburgh, Penn State, Kent State, and West Virginia University; the College Affordability Academy, which helps families make better choices about financing a college education; and the RMU Advantage Scholarship, which provides a $1,000 textbook credit for students who choose RMU over Duquesne University.