Department of Accounting & Taxation
RMU was founded as the Pittsburgh School of Accountancy in 1921, and the University has a long history of providing high-quality accounting education.
Today, the Department of Accounting and Taxation continues to provide students with the practical knowledge base and technological skills they need to excel in the accountancy profession. Our accounting program trains students for careers in public accounting, internal accounting (within corporations and financial institutions), and accounting for nonprofit organizations and governmental entities. We prepare students for their professional careers through mentorship programs with industry partners, internships that earn academic credits, personalized career advising, and many leadership development activities in active student-run professional organizations. For students interested in pursuing a CPA license, the accounting curriculum satisfies Pennsylvania's CPA core educational requirement. The accounting curriculum is continuously updated to comply with the currency of the CPA exam. We also offer accounting majors multiple pathways to satisfy the 150-credit requirement for CPA licensure, including enrolling in our accelerated integrated master's program (through which student can earn a master degree in any of several disciplines while completing their undergraduate degrees) or selecting an additional concentration or minor through a carefully curated curriculum.
The School of Business is accredited by AACSB, the premier global accrediting agency for business schools. In addition, the accounting program is endorsed by the Institute of Management Accountants (IMA) for its rigorous curriculum that prepares students for the CMA exam and successful careers in management accounting.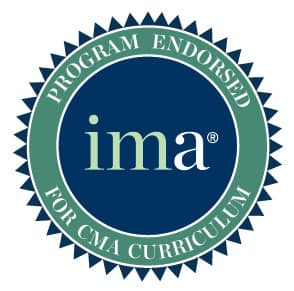 Accounting Events and News
Programs
| | | |
| --- | --- | --- |
| Program Title | Degree | Availability |
Academic Program - Certificate

| | | |
| --- | --- | --- |
| Business | Graduate Certificate | Available - On Campus Available - Online |
Accounting Department Newsletters & Social Media

"Generally Accepted Accounting Newsletter", a periodically published newsletter that provides latest information for RMU accounting students and faculty, can be subscribed and accessed here.

You can also follow the department on the social media:

 

Our Vision and Mission

Vision

The Robert Morris University Department of Accounting and Taxation will enhance its excellence in professionally focused accounting education and career-readiness.

Mission

Building on our University's heritage as a school of accountancy and our culture of academic excellence, the mission of the Robert Morris University Department of Accounting and Taxation is to elevate students by providing them with pathways to career success, developing their professional knowledge base and skills in the fields of accounting and taxation, and fostering their overall intellectual acuity
through a student-centered educational approach.

CPA and CMA Preparation

CPA Preparation

The Accounting program at RMU prepares students for careers in both public and private accounting. The educational requirements to become a CPA in Pennsylvania are:

Undergraduate degree
24 credits in accounting, auditing, business law, finance and tax.
Completion of the RMU undergraduate accounting major check sheet will meet the PA requirements to sit for the exam.
120 credits are required to sit for the CPA exam; 150 credits are required to obtain a CPA license. 

Visit the PA State Board of Accountancy website or speak with your academic advisor for other requirements. 

You might also want to read about "Become a CPA in Pennsylvania" booklet published by the Pennsylvania CPA Foundation here.

In addition, the accounting faculty recommends that following CPA preparation tips:

Complete all of the following accounting and business electives in the undergraduate curriculum including: 

ACCT4020 Advanced Financial Accounting
ACCT4040 Government and Not-for-Profit Accounting
ACCT4110 Taxes II: Federal and State
BLAW3050 Business Laws II

Do not take the CPA exam without having taken a CPA Review Course.
Take the CPA Review Course as soon as possible after graduation.
Consider deferring your employment start date to allow for time to take the CPA Review Course and take the exam.
Seek employers who will pay for the CPA Review Course.

CMA Preparation

RMU Accounting program is recognized by the Institute of Management Accountants (IMA)'s Higher Education Endorsement Program for its rigorous academic program. Click here to learn more about becoming a Certified Management Accountant. 
RMU students can are able to receive the CMA certification when they complete their 120-credit BSBA degree and pass the CMA exam.  The accounting faculty recommends that 

Complete the relevant accounting and finance courses in the undergraduate curriculum including:

ACCT3100 Cost Accounting I
ACCT4100 Cost Accounting II
FINA3000 Principle of Finance
FINA3200 Corporate Finance
FINA3500 International Finance

Enroll in IMA Student Membership by contacting Dr. Abdullah.
Apply for IMA's CMA scholarship by contacting Dr. Abdullah.

Internships

Accounting students enjoy above-average job placement rate, thanks to the department's robust internship program. Students can take internships with or without credits. If students intend to take internship for credit, students must apply and seek approval BEFORE their internship starts. In addition, following criteria must be met to participate in the academic internship program:

Department Head Approval
Minimum GPA: 2.5
Minimum courses in the concentration completed at RMU – One (1), has to be either ACCT3030 "Intermediate Accounting I" or ACCT 3110 "Taxes I"
Registration deadlines are the end of the fourth week of the fall and spring semesters and the end of the second week of the summer session.

To submit your academic internship application, please visit the Career and Professional Development Center's AIP website.

Awards and Scholarships

The Department manages and awards multiple endowed scholarships every year. These scholarships include Accounting & Taxation Legacy Scholarship, Alpern Rosenthal Scholarship, Deloitte and Touche Scholarship, Klemash Scholarship, McCutcheon Endowed Scholarship, Oticon Scholarship, Price Waterhouse Cooper Scholarship, Schneider Downs Scholarship, and Accounting Diversity Scholarship. The application typically opens in the mid-Spring semester and the award decisions made by the end of the spring semester.

RMU accounting students are also constant winners of some notable external scholarships, such as the ones provided by the Pennsylvania Institute of CPAs (PICPA), American Institute of CPAs (AICPA), Institute of Management Accountants (IMA) Pittsburgh Chapter, and Institute of Internal Auditors (IIA) Pittsburgh Chapter.

In addition to scholarships that provide direct financial support, RMU accounting students are eligible for Becker CPA Scholarship and CMA Scholarship that provide free exam preparation materials and other perks such as heavily discounted exam entrance fee. Please consult with your academic advisor for details.

Advisory Board

The Department of Accounting and Taxation Advisory Board works with accounting faculty to ensure the RMU accounting curriculum is aligned to meet industry needs and to help raise the program's profile. As a member of the RMU Accounting Advisory Board, these individuals contribute their expertise to promote the success of department programming and the development of future ones.

Current Advisory Board members are:

Joseph Battaglia, Director, PwC
Scott Beaves, Managing Director, FedEx
Jay R. Daugherty, Senior Manager, KPMG
Amanda K. DeCaria, Assistant Vice President, Bryn Mawr Trust Wealth Management
Eric Fair, Senior Manager, Schneider Downs 
Chelsey Knapton, Senior Manager, Audit, KPMG
Steve Kobert, Manager, Advisory, EY
Larry McGuire, Partner, PwC
Christina Rising, Senior Manager, Deloitte
Keith Schwarz, Assistant Treasurer, Markovitz Enterprises & IMA Pittsburgh Chapter President
Sandy Stewart, Principal, HBK CPAs & Consultants
Daniel Ward, Vice President · Senior Audit Group Manager, The Bank of New York Mellon
Jeffrey A. Wlahofsky, Shareholder, Schneider Downs
| | | |
| --- | --- | --- |
| Program Title | Degree | Availability |
Academic Program - Certificate

| | | |
| --- | --- | --- |
| Business | Graduate Certificate | Available - On Campus Available - Online |
Department Head
Jacob C. Peng, Ph.D., CISA
Richard J. Harshman Professor of Accounting
Specialties: Accounting information systems, XBRL, text analytics