Master of Business Administration
Apply Today
RMU's highly regarded, AACSB accredited M.B.A. program has just earned another important distinction. Leaping ahead of many of its local competitors, RMU now joins Carnegie Mellon University and the University of Pittsburgh as one of the top 3 M.B.A. programs in the Pittsburgh region.  
The recognition comes in the latest ranking released by the Pittsburgh Business Times. RMU has seen impressive enrollment growth in its M.B.A. program driven by its strong reputation and fast and flexible format all while remaining one of the most affordable programs available.
Earn your M.B.A. in less than two years
Inspired by the real-world workplace, the RMU M.B.A. features team teaching in all seven core classes. Two expert faculty from different disciplines reinforce the interrelation of management, finance, marketing, and other key business skills.
When you pursue an M.B.A., you choose to take on new challenges on the path to increased responsibilities and rewards that come with a higher position. At RMU, we do everything we can to support you by making it affordable, flexible, convenient, and student-focused. We provide the type of personalized attention you need to realize your professional goals, while balancing your graduate education with everyday life.
The M.B.A. curriculum consists of 10 three-credit courses, all taught in an 8-week accelerated format. Students taking one course every eight weeks can complete the degree requirements in less than two years.
Degree requirements and courses
MBAD6015 Leading With Agility
MBAD6110  Financial Management And Accounting For Decision Makers
MBAD6215 Analytical Methods For Decision Makers
MBAD6510 Global Operations And Supply Chain Management
MBAD6020 Customer Value In A Digital World
MBAD6245 Understanding Today's Global Business Environment
MBAD6990 Strategic Knowledge Integration
MBAD Elective 
MBAD Elective 
MBAD Elective
Stackable credentials
Earn a 12-credit online certificate — separately or M.B.A.-integrated — and put yourself on track for advancement in these high-demand fields:
Business Analytics and Big Data
Project Management
Supply Chain and Logistics Management
Risk Management
Small classes
Class size is kept small for enhanced interaction, so that both professors are able to communicate frequently and productively with online and on-ground students. 
AACSB accredited
Robert Morris University is an accredited member of AACSB International -- The Association to Advance Collegiate Schools of Business. Synonymous with the highest standards of excellence since 1916, AACSB provides quality assurance, business education intelligence, and professional development services to over 1,500 member organizations and more than 785 accredited business schools worldwide.
Format and delivery
The M.B.A. curriculum consists of 10 three-credit courses. M.B.A. courses are taught in an 8-week accelerated format. Students taking one course every eight weeks can complete the degree requirements in less than two years.
If you are new to online learning, visit RMU Online. The majority of RMU students do apply for financial aid. The first step is to apply for federal student aid with the FAFSA. The RMU financial aid web page and your dedicated financial aid counselor can assist with questions.
If your employer provides an employee tuition benefit, RMU offers a corporate deferred billing program. Enrollment information for the Company Reimbursement Program can be found at Student Financial Services (SFS).
Student testimonials
Contact information
For admissions or financial aid questions:
Graduate Admissions
graduateadmissions@rmu.edu
412-397-5200
For academic or program questions:
Jodi Potter
M.B.A. Program Director
potterj@rmu.edu
412-397-6387
Sample Courses:
These are some of the classes for students in this academic program:
Leading the Business Enterprise
Creating Customer Value in a Digital World
Global Operations & Supply Chain Management
Top Employers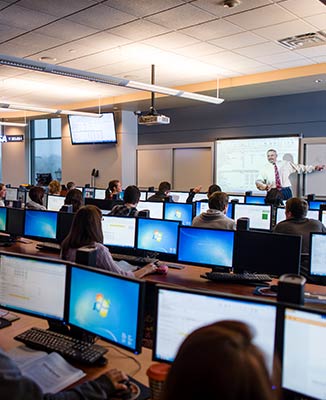 School of Business
For nearly a century, our business students have learned to excel in a demanding professional world. With corporate connections and expert faculty mentors, our heritage is your future.
Visit School Site