Health Services Administration B.S.
Apply Today
Availability
Available - On Campus
Available - Online
The B.S. in Health Services Administration prepares students to become leaders in healthcare organizations in a time of rapid change and expansion. Future administrators must be prepared to deal with evolving integrated patient care delivery systems, technological innovations, and an increasingly complex regulatory environment, while improving efficiency and quality.
The program integrates theory, practical experience, and relevant case studies, developing a comprehensive understanding of the healthcare industry and a focused leadership style adapted to the reality of patient care delivery today. The program ends with an internship customized based on the student's area of interest and focus.
The Health Services Administration B.S. program in the School of Nursing, Education and Human Studies is accredited by the Association of University Programs in Health Administration.

HSA Virtual Open House for RMU Bachelor's Program
Robert Morris University faculty and staff speak with other healthcare officials about the benefits of a Health Services Administration bachelor's degree.
Contact Information
Samantha Monda, Ph.D., NCC, CMPC
Acting Department Head, Psychology and Health Sciences
School of Nursing, Education, and Human Studies
monda@rmu.edu
412-397-6036
Holly Hampe, DSc, RN, MHA, MRM
Health Services Administration Program Director
hampe@rmu.edu
412-397-5483 phone
4-Year Course Plan

Freshman Year, Fall

HSAM 1275 Introduction of Health Services Administration (1st 8 weeks)
CSEN 1010/1020 Reading & Writing or Argument & Research 3
PSYC 1010 General Psychology
INFS1020 Intro Decision Support Systems
Open Elective
FYSP 1000 First Year Studies Seminar

Freshman Year, Spring

ECON 1010 Survey of Economics
CSEN 1030 Public Speaking
SOCI 1020 or SOCI 1010 Principles of Sociology
HUMA 1010 Art & Music
MATH 1010 or higher level College Math or higher level

Sophomore Year, Fall

HSAM 2300 Health Services Administration I (1st 8 weeks)
HSAM 2350 Health Services Administration II (2nd 8 weeks)
ELIT XXXX Literature
CSCM 2040/2050 Professional Communication in the Workplace or Intercultural Communication
STAT 2110 Statistics

Sophomore Year, Spring

HIST/POLS X History/Political Science
HSAM 2400 Health Care Law & Ethics (8 weeks)
HSAM 2500 Basic Principles of Health Economics (8 weeks)
INFS 3440 Healthcare Informatics
CSCM 2040/2050 Professional Communication in the Workplace or Intercultural Communication

Junior Year, Fall

HSAM 3600 Fundamentals of Health Policy (8 Weeks)
HSAM 3450 Introduction to Managed Care (8 Weeks)
Intro of Quality Mgmt & Performance Improvement in Healthcare (8 Weeks)
Open Elective
Open Elective

Junior Year, Spring

HSAM 3500 Healthcare Financial Administration (8 Weeks)
HSAM 3700 Strategic Plan for Health Care (8 Weeks)
HSAM 3150 Healthcare Data Analytics (8 Weeks)
Science Requirement
Open Elective

Senior Year, Fall

HSAM 4820 Human Resources Administration (8 Weeks)
HSAM 4200 Budgeting/Financial Accounting (8 Weeks)
HSAM 4250 Research for Health Professionals (COMM) (8 Weeks)
HSAM 4830 Development (1st 8 weeks) (COMM)
Open Elective

Senior Year, Spring

HSAM 4800 Marketing for Health Service Organization (8 Weeks)
HSAM 4850 Undergraduate Thesis Health Care (COMM) (15 Weeks)
HSAM 4309 Internship (COMM) (15 Weeks)
Mission Statement

The Robert Morris University undergraduate Health Services Administration program prepares students, regionally and nationally, for management positions within a broad array of healthcare organizations through innovative and experiential learning opportunities. The program curriculum reflects certification standards, including evidence-based leadership principles in the healthcare environment and the quadruple aim framework. Through emphasis on networking and service activities, the students participate in a variety of opportunities and practical field experiences, transforming program graduates into effective and engaged healthcare professionals.
Application Process

Please see our Undergraduate Admissions Requirements page for more information.
Teaching, Learning, & Assessment Methods

Teaching/Learning Methods: 1)  Discussion Board Questions (written and video), 2) Focused Individual Writing Assignments, 3) Day in the Life Interviews 4) Quizzes/Exams 5) Synchronous/Simulation Exercises, 6) Weekly Learning Summaries,  7) Team Activities/Case Studies, 8) Internships/Field Assignments, 9) Reflective Papers, 10) Blogs/Journals, 11) Readings/Videos, 12) Finance or other analysis problems
 
Assessment Methods: 1) Quiz scores and feedback, 2) Presentation feedback, 3) Competency Assessments, 4) Discussion Board Rubrics. 5) Written Assignment Rubric , 6) Reflective Exercise Rubric, 7) Process Analysis Assignment Rubric,  8)Team-Self and Peer Assessments, 9) Learning Summary scoring, 10) Course participation 11) Preceptor evaluations, 12) Self evaluation and Evaluations of the Preceptor, 13) Time logs

Outcomes Measures:

Degree Completion: From the inception of the program in 2014, the completion rate is 86%
Employment rates: From the inception of the program in 2014, 98% of the graduates were employed within 90 days of graduation 
Sample Courses:
These are some of the classes for students in this academic program:
Healthcare Financial Administration
Healthcare Law & Ethics
Professional Career Development
Health Services Administration, Information Science
Communication Skills, Economics, Humanities, History, Sciences, etc.
Top Employers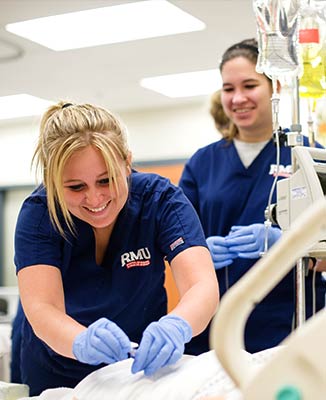 School of Nursing, Education and Human Studies
More than ever before, today's complex healthcare environment needs skilled clinicians,  expert communicators, and good people. Our students are about more than a major.
Visit School Site