Health Services Administration B.S.
Apply Today
The B.S. in Health Services Administration is designed to prepare individuals as leaders in a wide variety of healthcare organizations. The program offers the knowledge and skills necessary to lead organizations in providing better healthcare for individuals, fostering better health for the population, and lowering per capita costs through improvement. Students develop a comprehensive and practical understanding of the healthcare industry.
Graduates go on to work in hospitals, physician offices, clinics, long-term care facilities, pharmaceutical companies, and government. Jobs include hospital department manager or CEO, nursing home administrator, clinic administrator, and medical office business manager.
Contact Information
William Wentling II, DSc, MS, RT(R)(N), CNMT
Department Head, Health Sciences
wentling@rmu.edu
412-397-5486 phone
Holly Hampe, DSc, RN, MHA, MRM
Health Services Administration Program Director
hampe@rmu.edu
412-397-5483 phone
Sample Courses:
These are some of the classes for students in this academic program:
Healthcare Financial Administration
Healthcare Law & Ethics
Professional Career Development
Health Services Administration, Information Science
Communication Skills, Economics, Humanities, History, Sciences, etc.
Top Employers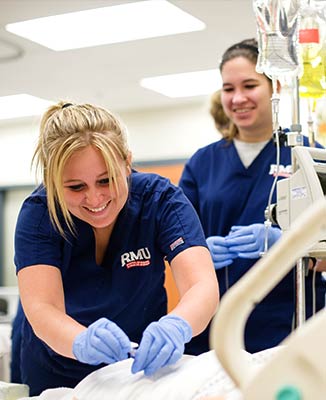 School of Nursing and Health Sciences
More than ever before, today's complex healthcare environment needs skilled clinicians,  expert communicators, and good people. Our students are about more than a major.
Visit School Site