Early Childhood Education B.S. (Special Education)
Apply Today
A concentration in Special Education can be combined with B.S. degree programs in Early Childhood Education (PreK-4). The program prepares candidates with the knowledge base, skills, and competencies necessary to meet the needs of students with disabilities in multiple settings.
Throughout the program, teacher candidates will develop personal and professional competencies by participating in both theoretical and applied experiences. All teacher candidates complete a set of core experiences in professional education, including participation in guided fieldwork. Graduates are certified to teach in preK-grade 4 and special education PreK-12 in Pennsylvania.
The initial teacher preparation and advanced educator programs in the School of Nursing, Education, and Human Studies have been accredited by the Council for the Accreditation of Educator Preparation (CAEP).

Contact Information
Susan W. Parker, Ph.D.
Department Head, Education
parkers@rmu.edu
412-397-6245
4-Year Course Plan: w/ Special Education PK-12 Major
Admission Requirements

To receive acceptance to Robert Morris University's education programs, students must meet one of the following sets of academic criteria listed here:

Additional admission requirements for RMU education programs are available on this page.
Sample Courses:
These are some of the classes for students in this academic program:
Teaching Students with High-Incidence Disabilities
Language Communication and Assistive Technologies
Special Education: Assessment, Evaluations and IEP's
Communication Skills, Economics, Humanities, History, Sciences, etc.
Top Employers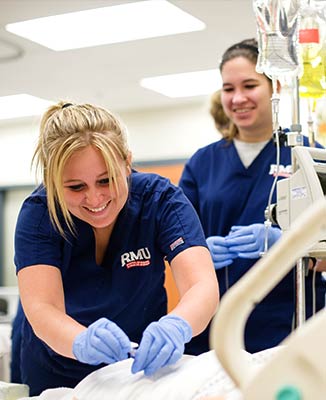 School of Nursing, Education and Human Studies
More than ever before, today's complex healthcare environment needs skilled clinicians,  expert communicators, and good people. Our students are about more than a major.
Visit School Site