English B.A.
Apply Today
The B.A. in English is built upon a broad foundation in the liberal arts, combining the study of literature with the study of language and communication. The curriculum is integrated through sustained attention to linguistics, problem-solving rhetoric, and the interpretation of literature and other texts. Students learn the stages involved in successful writing and speaking, especially the value of revising and editing their work according to criticism obtained through feedback.
Graduates go on to work in advertising, public relations, writing and editing, and other fields. Jobs include writer, editor, teacher, public relations coordinator, and communications specialist. The program is particularly suited for students who plan to go to graduate school, or law school, or to pursue professional careers in a variety of fields. Students in this concentration may be eligible for the pre-law advisory program.
Interested students in this course of study may be eligible for the Early Law School Admission Program.
Contact Information
Heather Pinson, Ph.D.
Department Head
pinson@rmu.edu
412-397-6463 phone (M)
Wheatley Center 208
4-Year Course Plan
FAQ for English Majors

What can you do with an English major?

An English major is a broad and flexible degree; rather than preparing graduates for a narrow occupation or job position, a degree in English "offers graduates a wide variety of career paths to follow. With an emphasis on communication and the written word, English majors learn to research, analyze and interpret information. They are encouraged to be critical and creative while exploring the many cultures of the world around them as well as the cultures that have come before them" ("Ten Things to Do with an English Degree").

Why an English major at RMU?

Compared to competitor's departments, RMU's English department is very strong in its continuing tradition of forging interdisciplinary connections that integrate "liberal arts with a professionally focused, applied education that prepares students for leadership in a rapidly changing world" (Mission Statement). English faculty teach in the interdisciplinary DSC program, publish in interdisciplinary journals (such as The Journal of Popular Culture and Issues in Information Systems), and have been awarded grants to work collaboratively with faculty from the School of Education and the Department of Engineering. This models for students the multiple internship and career paths open to English majors with interdisciplinary interests and abilities. 

What is an English Education major?

An English Education major IS an English major who takes nearly all of the courses taken by English majors, along with an additional eight education courses. To complete their program of study, English Education students complete a student-teaching internship. These students are certified to teach grades 7 -12 (and if in a middle school, with a principal's letter, they can teach 6th grade as well). Middle-Level Education majors are Education majors with a multi-disciplinary focus of study (English, Math, Science, etc.) and are certified to teach grades 4 – 8. Early Childhood Education majors are also Education majors with a multi-disciplinary focus of study and are certified to teach grades Pre-K -4.
Successful English Majors

Mario Cuomo, former Governor of New York
Michael Eisner (English/ Theatre double major), former CEO of Disney
Jodie Foster, Academy Award-winning Actress
Kathryn Fuller, Director of the World Wildlife Fund
Angelo Giamatti, Seventh Commissioner of Baseball
Andrea Jung, former CEO of Avon
Stephen King, Author
Arthur Miller, Playwright
Toni Morrison, Author
Hank Paulson, former Treasury Secretary
Sally Ride, Astronaut
Mitt Romney, former CEO of Bain Capital & politician
Diane Sawyer, Journalist
Herb Scannell, president of Nickelodeon & MTV Networks
Martin Scorsese, Academy Award-winning Director
Steven Spielberg, Academy Award-winning Director
Amy Tan, Author
Clarence Thomas, Justice of the Supreme Court
Harold Varmus, Nobel Prize winner (Medicine)
Barbara Walters, Journalist
Emma Watson, Actress
Bob Woodward, Journalist
Renée Zellweger, Academy Award-winning Actress
Careers for English Majors

Actor/ Actress
Administrator (hospital, university, industry)
Agent
Attorney
Author
Bioethicist
Biographer
Blogger
Book Critic
Business Manager
Campaign Manager
College Professor
Copywriter
Diplomat
Editor
Education & Training
ESL Teacher/ Teaching English Abroad
Film/ TV Director
Freelance Writer/ Consultant
Government
Grant Writer
HR Specialist
Journalist
Lawyer
Law Enforcement
Management
Marketing
Paralegal
PR Director
Politician
Social Media Consultant
Teacher
Technical Writer
Web Designer
Sample Courses:
These are some of the classes for students in this academic program:
Creative Writing
Advanced Nonfiction Writing
Modern English Grammar & Editing
English, Philosophy, English Lit
Communication Skills, Economics, Humanities, History, Sciences, etc.
Top Employers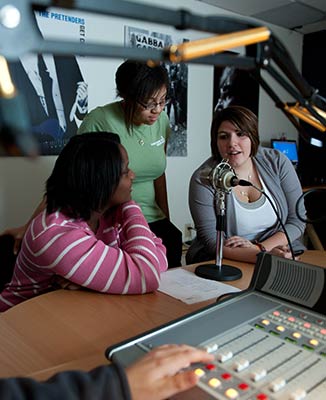 School of Informatics, Humanities and Social Sciences
Focus on delivering information in a way that makes an impact. Create images that capture attention, compose words that inspire, and design technology that changes how we live.
Visit School Site