Banner System Reports
Many Banner system reports exist, and the report list continues to expand. Before Banner, the 'RMU Reports' collection existed and many of these reports have been modified to work with Banner. A new Banner Reporting tool, 'Argos', is being used to develop new reports and the strategy is to merge 'RMU Reports' into 'Banner Reporting' (Argos) over time.
To access the Banner reports, login to Sentry and click one of the report links in the 'Software Applications' section. The Banner Reporting link, will display this web page that contains report catalog information and login links (via Access Reports) below. The RMU Reports link is a legacy placeholder allowing quick access to RMU Reports. To learn more, please visit the Report Catalog links directly below.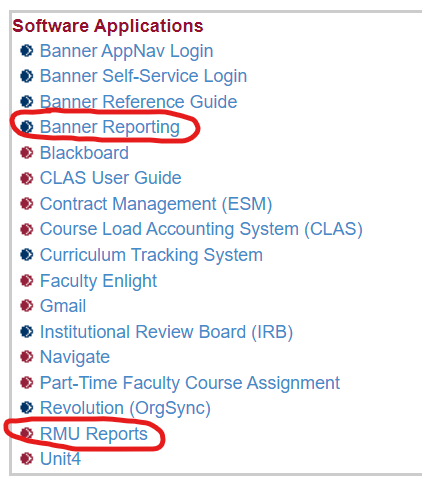 Based on your level of report access, you may not have access, or, may only have access to a subset of available reports.
Please refer to these report catalogs to learn about the available Banner reports:
      Report Catalog                           Report Access
To request report access, or if you have any reporting questions or suggestions, please contact the RMU IT Help Desk at help@rmu.edu
Banner AppNav (administrator) Functional Users
Please refer to the links below to view / download the available Banner AppNav Processes & Reports for the given functional areas.
Helpful Hint - when the document opened in the web browser, click the download arrow (top right) to download the PDF document. You should then be able to easily view the table of contents on the left side of the PDF document.
Accounts Receivable 
Financial Aid                                 
Student: